Copper is one of the first metals ever extracted and put to use by people. It has made a vital contribution to the development of society since the dawn of civilization and still plays an indispensable role in the modern world. Nowadays, copper is used in almost every sphere of life – it is crucial to electrical equipment, power generation, infrastructure, water purification, agriculture, renewable energy, transportation, construction, chemical tests, industrial machinery, and other industrial sectors. Copper is an essential component in the development of various modern, sophisticated technologies, therefore, it is poised to be of paramount importance in the future development of the planet.
Copper consumption by end-use sectors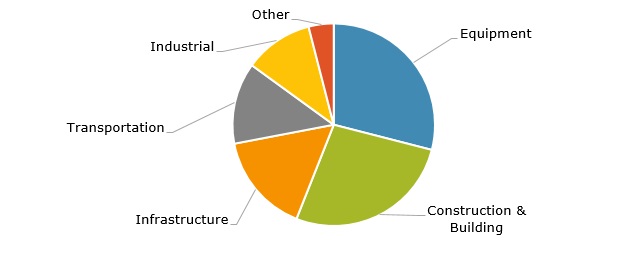 During the recent decade, the world's overall consumption of refined copper demonstrated a steady upturn backed by the mounting demand from an array of applications – it increased from almost 17.89 million metric tons in 2008 to nearly 24.25 million metric tons in the year 2018. Worldwide, the demand for refined copper is predicted to continue following an upward trend because this metal is essential to economic activity as well as to the modern technological progress. Robust infrastructure development, especially across the emerging countries, ongoing growth of the renewable energy sector along with booming electric vehicles industry are likely to act as important drivers of the copper consumption in the foreseeable future. As of 2019, about 24.8 million metric tons of refined copper are expected to be consumed across different end-use sectors worldwide – an expected 2.6% YoY increase. In the next 1o years, the global consumption of refined copper may cross 29.8 million metric tons.
Global consumption of refined copper during 2007-2019* (in million metric tons)

As for production, after a decline of nearly 1.5% in 2017 caused by significant supply disruptions along with a lack of substantial output from novel projects and expansions, the global mine production of copper recovered in 2018: it increased by appr. 2% and came to about 20.43 million metric tons. In 2019, the world's copper mine production is projected to register modest growth adding some 1.2% and go beyond 20.7 million metric tons.
Meantime, the global refined production of copper managed to maintain low but healthy growth in 2017 and totaled about 23.49 million metric tons. In 2018, it also exhibited a positive moderate growth and crossed 24.16 million metric tons. During the current year, the world's copper refined production is anticipated to go up by around 2.7% and surpass 24.8 million metric tons. China is forecast to remain the major contributor to the growth of the global production of copper, followed by DR Congo.
Global copper production during 2007-2019* (in million metric tons)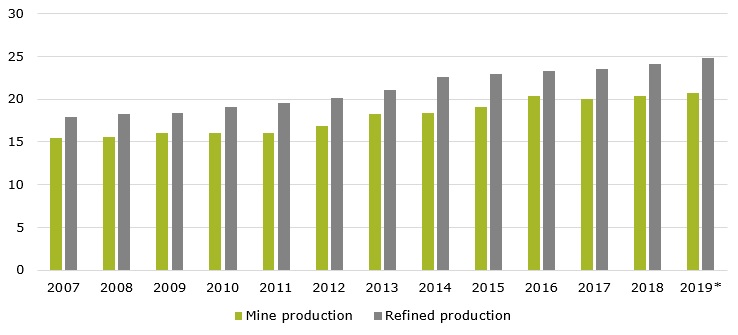 However, despite anticipated healthy growth of production, the world's copper market is poised to witness persistent undersupply and remain in deficit over the next several years, as the global consumption will likely continue to outpace supply growth. As of 2018, the global refined copper supply/demand balance registered a deficit of around 247,000 metric tons. The demand for copper is ramping up considerably faster than the supply, therefore, the world's copper market may remain under-supplied till 2021. Nevertheless, it is the short-term outlook, but over the long run, the deficit of the global copper market is projected to decline and, eventually, the market is expected to shift to oversupply owing to the increasing investments of copper producers in new projects as well as in the expansion of their production capacities.