Bioplastics (biobased plastics) refer to polymers made from renewable biological material (biomass sources), e.g. plant-based fats, straw, woodchips, potato and corn starch, food loss, among others, and can be both biodegradable and non-biodegradable.
Actually, the demand for bioplastics is seeing a constant upsurge, entailing their increased production and practice worldwide, due to a slew of benefits they offer, primarily their contribution to lower carbon footprint. While growing, plants absorb our planet's carbon dioxide (CO2). The use of biomass to make bioplastic products contributes to CO2 being temporarily removed from the atmosphere. This CO2 fixation spans for a further time period in case the material is recycled. Moreover, counting on renewable feedstock, bioplastics help minimise the reliance upon the constantly declining fossil resources, which are set to significantly grow in price over the future decades.
Factors such as higher consumer interest in different sustainable choices instead of classical plastics, surging environmental concerns, higher political endorsement for the emerging biobased economy, along with the non-stop endeavours of the bioplastics industry to elaborate novel materials with enhanced features and new functionalities are igniting the bioplastics market growth. Further, the elevated consumption of packaged food and increasing demand for elaborate packaging for the burgeoning middle-class population are supplementing the growth of the world bioplastic market.
Meanwhile, increased costs of production and relatively poorer performance criteria compared to synthetic plastics act as major limiters to the market growth to some degree.
Bioplastics Market Set to See Around 25% Growth in Next 5 Years
To date, bioplastics constitute around 1% of the approximately 335 million tonnes of all plastic produced per annum. But in view of the ongoing demand growth and with the emergence of more elaborate biopolymers, products, and applications; the market is constantly expanding and is slated to see around 25% growth during the coming 5-year period.
Thus, in volume terms, the overall demand for bioplastics is likely to stand at nearly 5.3 million metric tonnes in 2020 – a 6-fold hike from 2010.
In value terms, the bioplastics market is anticipated to augment 5-fold from 2015 to 2020 to amount to USD 30 billion, further coming to the projected USD 324 billion by end-2030. The market value of biodegradable plastics worldwide is predicted to amount to some USD 6.1 billion by 2023.
Bioplastics market value globally as of 2015, with projections for 2020 and 2030 (in USD billion)  

The overall bioplastics production capacity stood at around 2.11 million tonnes as of 2018; biodegradable bioplastics and bio-based/non-biodegradable bioplastics represented, accordingly, 912,000 tonnes and 1.2 million tonnes. By end-2023, the total production capacity of bio-based plastics is forecast to reach around 2.62 million tonnes.
Total production capacity of bioplastics in 2017-2018 and projections for 2019-2023, based on type (in 1,000 tonnes)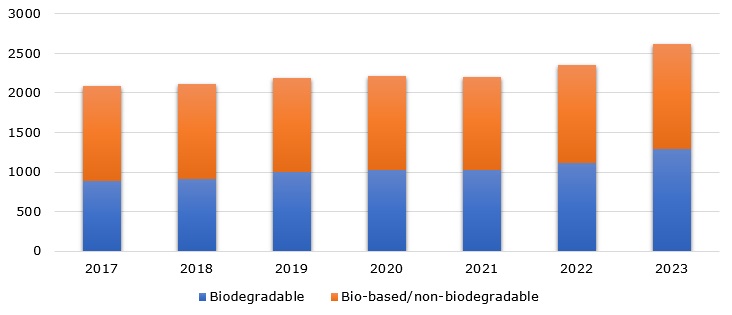 Novel biopolymers like polyhydroxyalkanaoates (PHA) and polylactic acid (PLA) are propelling the growth in the bio-based biodegradable plastics sector.
Having been in development for some time now, PHAs represent a group of naturally produced linear polyesters that are currently the strongest candidates for substitution of conventional plastics in future. Within the forthcoming 5 years, their production capacities are likely to increase fourfold. These 100% biodegradable biopolyesters feature a vast array of characteristics relying upon their chemical makeup. They find multiple applications in versatile industries, comprising nanobiotechnology. PHAs boast positive social and environmental implications as to production and recycling, alongside being able to not affect human health when employed in vivo. In addition, developments in recovery techniques boosted the efficiency of extracting these green plastics from renewable sources at high purity.
Furthermore, production capacities of PLA are slated to see a 60% increase by 2023 as against 2018. Having multi-faceted uses and exhibiting excellent barrier performance, high-performance grades of PLA can act as wonderful alternatives to petrochemical-based thermoplastic resins such as polypropylene (PP), polystyrene (PS) and acrylonitrile butadiene styrene (ABS) in more challenging applications.
Production capacity shares (%) of bioplastics as of 2016 with forecasted numbers for 2021, by type of material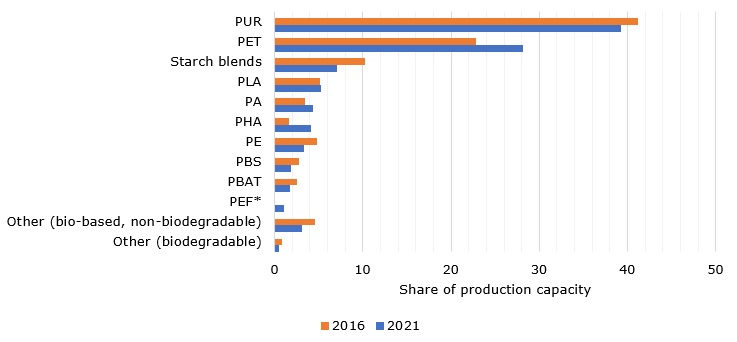 With regard to bio-based/non-biodegradable plastics, the manufacture of bio-PE is projected to rise in view of additional capacities set to become operational in Europe in the offing. Meantime, the production capacities for bio-PET haven't been increased at the amount intended previously. Alternatively, there has been a keen interest in the development of novel polymers like polyethylene furanoate (PEF), as well as bio-PP, that are envisaged to appear in the market during 2023. PEF is equivalent to PET but 100% bio-based and is deemed to exhibit outstanding barrier and thermal characteristics, making it a perfect material for the packaging of drinks and foods and other products. Bio-PP is forecast to demonstrate remarkable growth going forward owing to their extensive application in a broad scope of sectors.
The share of bio-based polyurethanes (PUR) in the overall bioplastics production capacity is forecast to diminish by 1.9% as of 2016 to 39.3% by end-2021. Nevertheless, the production of this polymer group is anticipated to expand more rapidly as against the traditional PUR market owing to their manifold uses.
Major Uses of Bioplastics
Plant-based plastics are exploited in an increasing selection of markets, from packaging (rigid and flexible), catering products, appliance electronics, automotive and transport, agriculture/horticulture and toys to textiles, amid a host of others.  Moreover, amid the recent trends, one can name the creation of electroactive bioplastics that are assumed to conduct the electric current. In these areas, the aim is not to make items prone to biodegradation, but rather from environmental resources.
Rigid Packaging to Be the Largest and Fastest Growing Bioplastics Application
With regard to packaging, bioplastics present a true solution to the requirement of reducing the use and waste of conventional plastic.
Packaging proceeds with being the dominant application area for bioplastics with the volume slightly surpassing the 1.2 million tonnes mark as of 2018. For the same year, the overall bioplastic production capacity for rigid packaging (comprising food serviceware) stood at close to 700,000 tonnes whilst for that for flexible packaging was 518, 000 tonnes. The world bioplastic production capacity for rigid packaging (plus food serviceware) is projected to grow from around 700,000 tonnes as of 2018 to nearly 2.23 million tonnes by 2022.
Thus, the development of complex bioplastic packaging for foodstuffs has considerably enhanced the food's shelf life, and its usage helps brands show their customers they are conscious of the environment. Still, the considerable majority of packaging today comes from mass plastics and ends up in waste landfills – the issue that is being addressed and reversed by the governments.
Total production capacity of bioplastics in 2018 with forecast for 2022, by market segment (in 1,000 tonnes)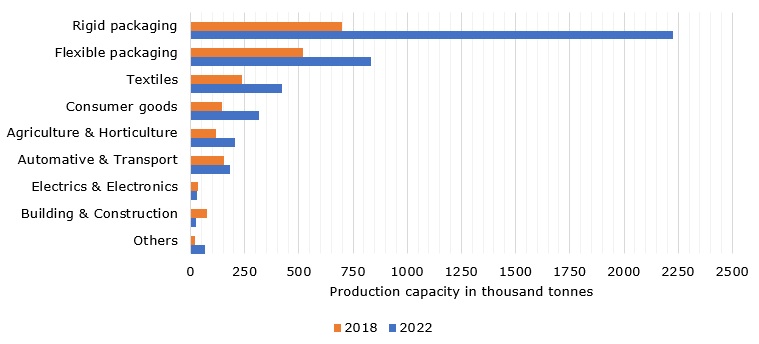 Textile industry players are trying to make a dramatic shift towards novel and higher-added-value products to stand up to the competition with low-wage nations.
Thus, US-based PrimaLoft plans to launch a novel biodegradable synthetic fabric produced out of fully-recycled materials to considerably reduce the ecological burden of the industry. The material (known as PrimaLoft Bio performance fabric) is designed to be biologically degraded in landfill deposits or the ocean at a relatively faster rate. The technology is stated to aid the industry in dealing with the surging problem of microplastics polluting the ocean. The firm's biodegradable synthetic fabric and insulation are to be launched in autumn 2020.
Automotive Application Area Shows Rapid Growth
The automotive sector is one of the most rapidly advancing application fields for bioplastics.
Bioplastics have turned into suitable material for an extensive set of automotive applications. As traditional plastics, bioplastics help reduce the overall vehicle's weight – the huge problem and key challenge for the auto sector. Beyond these benefits, the focus now is on opting for the most resource-efficient plastics. Bioplastics play a part in minimising the ecological footprint of car manufacturing by further cutting CO2 emissions and energy usage. Indeed, top automotive brands from pole to pole are already exploiting bioplastics in order to reduce their products' ecological footprint.
Specifically, technical applications in the automotive domain are one of the most significant forthcoming markets for bioplastics. Volumes are likely to surge from around 155,000 tonnes to 166,000 tonnes in the near 5 years.
Japan-based Toyota takes the lead in adopting bioplastics, which specifically utilises bio-polyesters, bio-PET, and PLA-blends in its manufacturing process. The Toyota Prius and Toyota SAI models already present a set of bioplastics applications like sun visors, floor mats, and headliners. Further, up to 60% of the interior fabrics are created from bio-polyesters, which show mechanical characteristics identical or even better as against PBT.
Italy's Fiat is another key car industry player relying on bioplastics. Besides bio-polyesters and polyamides, bio-polybutylene succinate (PBS) upgraded to a high-performance natural fiber composite is another appropriate material for the automotive sector.
Overall, plant-derived plastics are capable of substituting a slew of applications for oil-based plastics, with cost and performance, nevertheless, still being questionable. In reality, their intensive use is advantageous only if there exist certain regulations restraining the use of traditional plastics.
Bottom line:
By all means, bioplastics have manifold advantages, especially when a host of factors are taken into consideration. Currently, there is no clear response as to whether plant-based plastics are better for the nature than oil-derived ones in the long perspective. But, as per environmentalists, a serious dearth of industrial composting plants mean bioplastics are unlikely to stop or abate the amount of plastic sneaking into waterways.