Our Fundamental Company Reports are unique reports providing top-level all-round information on a company's affairs and activities. Fundamental Company Report is a must-have tool for those desirous of gaining competitive edge in the market and staying ahead of other players, as it offers in-depth insights into competitors' businesses and helps to strengthen your company's decision-making and strategy-planning processes.
Fundamental Company Report provides an unrivalled knowledge of internal business environment of a company (data on owners, locations, senior executives, products, subsidiaries, history, etc.), includes detailed industry analysis, contains granular financial analysis with updated info on key financial ratios, scrutinizes the main factors (internal and external) influencing a company performance and the overall field it is active in and provides you with SWOT, Enhanced SWOT, PESTEL, Porter Five Forces, and VRIO analyses as well as IFE, EFE, IE matrices.
Moreover, Fundamental Company Report comprises a comprehensive competitive assessment of a company as well as benchmarks it with key competitors; offers a snapshot of the relevant news, an overview of PR-activity and highlights stock price fluctuations. In addition, Fundamental Company Report discloses future forecasts and provides valuable recommendations and expert opinions.
Learn about analyses features:
SWOT Analysis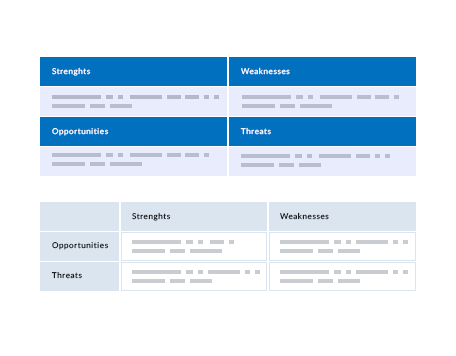 Clear picture of company's unique characteristics given
Strengths, weaknesses, opportunities and threats of a company are evaluated in our reports; SWOT is one proven method to accomplish this. Moreover, there's also Enhanced SWOT analysis available that identifies company's strategic fit given its internal capabilities and external environment.
SWOT, which stands for Strengths, Weaknesses, Opportunities and Threats, is an analytical framework that identifies the internal and external factors that are favorable and unfavorable for a company.
VRIO Analysis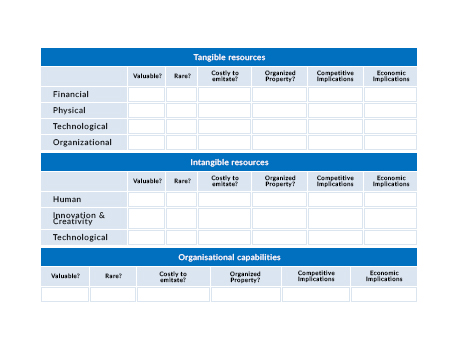 Internal resources and capabilities examined
And the answers are given whether these resources and capabilities are: Valuable? Rare? Costly to imitate? Organized properly? That's what VRIO analysis, our reports provide, stands for. The result of the analysis gives better understanding of company's competitive and economic implications.
VRIO stands for Value, Rarity, Imitability, Organization. This analysis helps to evaluate all company's resources and capabilities and bring them together into one aggregate table that includes:
Tangible resources

Financial
Physical
Technological
Organizational

Intangible resources

Human
Innovation and Creativity
Reputation

Organizational capabilities

The result of the analysis gives a clear picture of company's competitive and economic implications, answering the questions if the resources mentioned above are:

Valuable?
Rare?
Costly to imitate?
Organized properly?
PESTEL & Porter Five Forces Analyses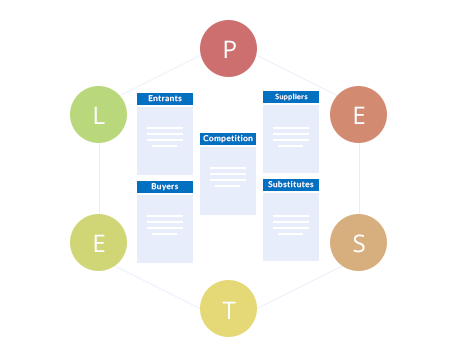 Environment and competition tracked
Our fundamental reports offer two frameworks that attempt to analyze external factors that impact the company as well as the level of competition within the industry of its operation:
PESTEL, an ideal tool to strategically analyze what influence different outside factors – political, economic, sociocultural, technological, environmental and legal – exert on a business.
PESTEL (also termed as PESTLE) is an ideal tool to strategically analyze what influence different outside factors – political, economic, sociocultural, technological, environmental and legal – exert on a business to later chart its long term targets.

Being part of the external analysis when carrying out a strategic assessment or performing a market study, PESTEL gives an overview of diverse macro-environmental factors that any company should thoughtfully consider. By perceiving these outside environments, businesses can maximally benefit from the opportunities while minimizing the threats to the organization.

Key Factors Examined by PESTEL Analysis:

Political – What opportunities and pressures are brought by political bodies and what is the degree of public regulations' impact on the business?
Economic – What economic policies, trends and structures are expected to affect the organization, what is this influence's degree?
Sociological – What cultural and societal aspects will work upon the demand for the business's products and operations?
Technological – What impact do the technological aspects, innovations, incentives and barriers have on the organization?
Environmental – What environmental and ecological facets, both locally and farther afield, are likely to predetermine the business?
Legal – What laws and legislation will exert influence on the style the business is carried out?
Porter's Five Forces analysis that derives five forces that determine the competitive intensity of an industry a company is active in.
The Porter's five forces analysis studies the industry of operation and helps the company find new sources of competitive advantage. The analysis surveys an industry through five major questions:

What composes a threat of substitute products and services?
Is there a threat of new competitors entering the market?
What is the intensity of competitive rivalry?
How big is the bargaining power of buyers?
How significant is the bargaining power of suppliers?
IFE, EFE, IE Matrices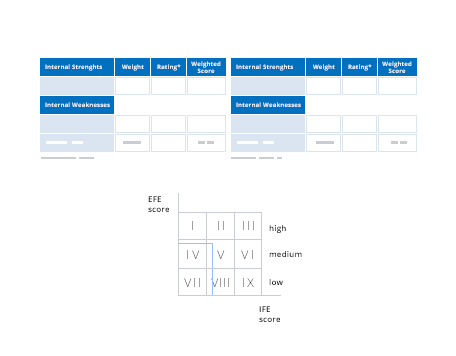 Influence of internal and external factors assessed
IFE, EFE, IE matrices rest upon an investigation of external and internal business factors integrated into one suggestive model. It is an instrument that visualizes and prioritizes major weaknesses and strengths and current market conditions a company is facing.
The Internal Factor Evaluation matrix (IFE matrix) is a strategic management tool helping audit or evaluate major weaknesses and strengths in a business's functional areas. In addition, IFE matrix serves as a basis for identifying and assessing relationships amongst those areas. The IFE matrix is utilised in strategy formulation.

The External Factor Evaluation matrix (EFE matrix) is a tool of strategic management that is typically utilised to assess current market conditions. It is an ideal instrument for visualising and prioritising the threats and opportunities a firm is facing.

The essential difference between the above mentioned matrices lies in the type of factors incorporated in the model; whilst the latter is engaged in internal factors, the former deals exceptionally with external factors – those exposed to social, political, economic, legal, etc. external forces.

Being a continuation of the EFE matrix and IFE matrix models, the Internal External matrix (IE matrix) rests upon an investigation of external and internal business factors integrated into one suggestive model.